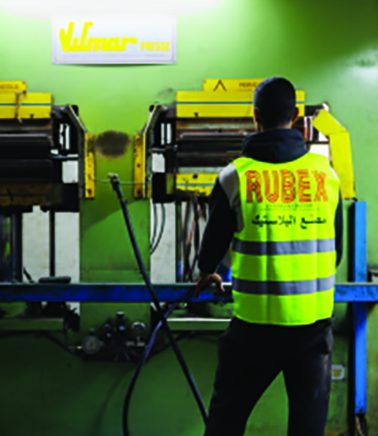 Rubex Factory for Plastic-Fiber Products
One of the newest additions to the Rubex group of factories and an integral part of the Rubex Center for Research and Development, the Plastic-fiber factory researches and conducts a wide range of R&D in the management and handling of waste products generated by the Rubex factories.  It studies methods for the safe disposal of generated waste, which is one of the costliest aspects of the business and is a main contributor to environmental pollution due to burning or burying in landfills. 
In this factory, compound mixtures of other bonding materials have been added and optimized for the production of durable plastic molds that have a natural stone or marble appearance and can be used for wall cladding and interior floors with unparalleled quality.  Rubex has designed and manufactured machines and molds that can withstand the handling of plastic waste using new and improved additives, that can essentially re-use discarded plastics that do not decompose and turn them into useful products.  Surprisingly, the end products match the look and feel of real stone and marble, and are completely free of defects (which are typically found in natural stone and marble). Furthermore, the end product is unbreakable and is unaffected by water, salt, chemicals, or even fire.
The Rubex Research and Development Center continues to work diligently to invent improved mixtures and additives to improve the properties of the product to be suitable for external cladding resistant to sunlight and its high temperatures